Have you just bought or planning to buy a Mi Band 6 or have a question about it, then this post is for you to get quick answers about Mi Band 6.
Let's get started,
Mi Band 6 QR code showing – Xiaomi Wear app and Mi Fit, Which app to install?
You are confused between two apps(Xiaomi Wear, Mi Fit), which are suggested as the result when you scan the Mi Band 6 QR code, right?
Now, if you want to install any one app based on advantages and features, then go with Mi Fit.
You can also get an idea about Mi Fit app popularity based on it's downloads on Play Store and App Store, compared to Xiaomi Wear app.
How is the battery life for Mi band 6?
Battery life of Mi band 6 depends on your usage.
In most cases(as per users experience) Mi band 6 consumes 10-12% battery in a day and lasts 10-12 days with full charge.
And, for heavy use, it is possible that it may last 4-5 days. At last, it depends on use.
Here is data from product page: 5 days battery life with heavy use*, 14 days battery life in normal mode* and 19 days battery life in power-saving mode*.
Why does my Mi band 6 increase brightness on its own?
Mi band 6 increases brightness on its own, this may be due to Night Mode settings. You can turn Night Mode setting off to stay brightness at your preference.
What is Pomodoro in Mi band and Where is Pomodoro in MI band 6?
Pomodoro is a time management technique – e.g., 20 mins timer for work then 5 mins break. Pomodoro timer in Mi band designed to improve work efficiency.
To use the Pomodoro Timer, swipe your main time screen to "More" option than tap Pomodoro timer. Here, you can manage your work time.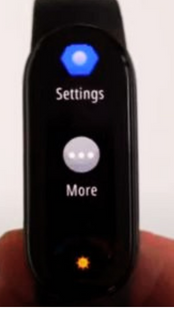 How to reset Mi Band 6?
To factory reset your Mi Band 6, tap on the main screen, scroll screen to "Settings" option, Next, scroll down to "Factory reset" option and tap that option.
Here, if you want Mi Band 6 reboot only for any quick fixes instead of factory reset, then tap the "Reboot" option from "Settings".
Can Mi Band 6 answer calls?
Mi Band 6 supports incoming calls notification, with a reject call option. Mi Band 6 does not have a microphone, so you are not able to answer calls with voice communication.
What is DND in MI band 6?
DND mode in Mi band 6 makes vibration off for notifications. It means, when DND mode is on, the band will not vibrate for any notifications.
Here, phone and band DND settings may work separately. For example, you will be notified on the band even if your phone is on DND mode.
Why does Mi band 6 count steps even if I have not been walked?
This is possible due to your hand movement. So, if your hand moves a lot, then it may be possible that your Mi band counts it as some steps, even if you have walked or not.
What is the Mi band 6 green lock screen?
Lock screen feature probably used to stop any accidental touch actions (e.g., shower, rain drops).
In this mode, you will find a lock surrounded by a green line. You can manage this feature from the "Settings / Lock screen" option.
That's it,
Hope you find Mi Band 6 FAQs helpful.