In this post, you will get answers and related details for two questions. They are What is Other Storage space in Xiaomi? And, How do I clear Other storage space?
You can consider the given details for all Xiaomi phones, which includes MIUI based Redmi, MI and POCO phones.
Details given in this post are general and may also be applicable for other Android phones.
Let's get started,
What is Other Storage space in Xiaomi(Redmi, MI) phones?
In Xiaomi(Redmi, MI) Android phones, Other Storage space includes miscellaneous files which are generated by system or installed apps.
These Other storage miscellaneous files include cache files, backup and other files which are generated while the app or OS is updated on the phone. And, temporary files which are generated while using apps also come under Other storage.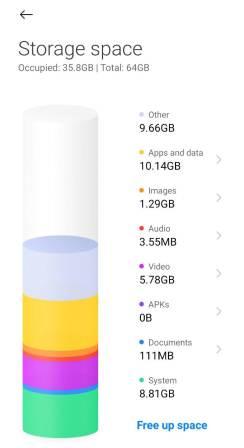 How to delete or clear Other Storage files in Xiaomi(Redmi, MI) phones?
You can not delete or clear Other storage files directly, as like audio, video or image storage files.
These Other Storage files are not accessible from mobile File Manager. As these files are part of system or app data.
Following are the two ways to delete/clear these Other Storage files.
1. Clear cache
You can clear cache files using the "Cleaner" app. This app is default available in Xiaomi phones.
2. Clear apps data
You can choose an app and clear app data from "Settings / Apps / Manage apps", from here you can select any installed app and clear its data using the "Clear data" option.
No need to clear all installed apps' data: In most cases apps which update many times and do storage related activities have more data. So, first check apps data size, and only clear data for those apps, which have big size.
And, don't worry about clear app data, app will create required data again. Note: some apps may behave bit slow in first usage after clear data and be normal after that (Mostly in game apps).
Now, after following two ways, you are able to clear most of data from Xiaomi phones Other Storage space.
At Last,
Hope you found both Xiaomi phones Other Storage space related answers helpful.