If you have problems with mobile data network, then the Xiaomi(Redmi, MI) "Security" app has a useful "Test network" feature. By using this feature, you can troubleshoot your data network issue and fix it quickly.
Following are steps to test mobile data connection
Open the "Security" app.
Scroll down and tap on the "Test network" option.
Here, Tap on blue color "Test network" text.
Next, the app will test your data network and show results.
What things tested in mobile data connection testing
In data network testing the following things will be tested.
Test signal strength
Network protocol diagnostics
Restricted connection for apps
Restricted background connection
Check APN configuration
Checking for other issues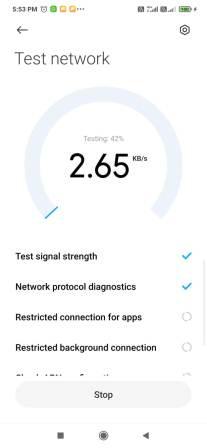 What other things you know from Test network feature
From the Test network screen, you can also know about all over connection speed data and app wise network speed.
Here, if some apps work slow due to poor data network connection, then you can compare that app connection speed with other apps from here.
And, more from these – security app also give option to "Force stop app" option here.