WhatsApp introduced new features for Group video calls. In this feature, you can check if a missed group video call is still continuing or not, you can all join the missed group video call yourself.
Previously when you are not able to attend WhatsApp group video calls, then after you are not able to know call status and not able to join by yourself.
But, with these new WhatsApp features, you will not miss any group calls, even if you missed at calling time. Here, you have the "tap to join" option till the group call has not ended.
Let's check out feature in detail,
How to check if a WhatsApp group video call is continuing or not?
All group video calls history available in WhatsApp "CALLS" tab. Now, if you missed any group video call and want to check it's status, then you can check it in the "CALLS" tab.
In the "CALLS" tab, if any group video call is active (on going), then that call title displays with green color with "Tap to join" option.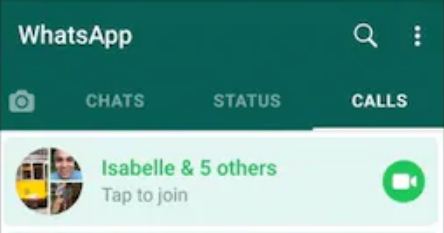 It means, by group call green title color and "Tap to join" option, you can check that particular group call is currently continue or not.
How to join a missed WhatsApp group video call?
WhatsApp users can join missed group video calls from the "CALLS" tab. Here, the active group calls are displayed with green color and "Tap to join" option.
When a user taps this active group call, WhatsApp gives the option to "Ignore" or "Join" options for that group call. Here, by tapping the "Join" button, users can join to missed active group calls.

At Last,
Hope you find this WhatsApp group video call update information helpful.