This post contains a guide for Xiaomi Redmi and Mi phones home screen setup. It means you will get info about wallpaper, widget, app group folder, home screen lock unlock, transition effect and add remove app settings.
Guide and tips for Xiaomi MIUI home screen customization listed in question answer format. So, you can easily find your solutions.
Let's get started..,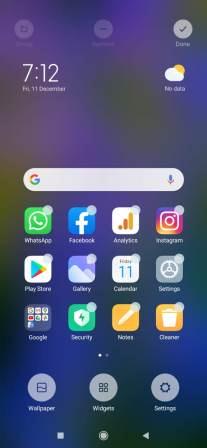 Xiaomi Redmi Mi Phones Home Screen Setup:
How to open MIUI quick home screen setting options?
To open MIUI home screen setting options first go to bottom icon options. Now, long press the first square icon from left. After complete these process, you will find screen setting.
Now to close the home screen option you can tap the "Done" option on screen top right corner. You can also tap on the bottom home button or back button to close settings.
How to change Xiaomi phones wallpaper?
Following are steps to change wallpaper on Xiaomi phones.
Open phone's settings app
Tap on the Wallpaper setting option.
Check and accept privacy policy (If asked).
Choose wallpaper and tap the green "Apply" button.
At last, Select wallpaper place (home screen, lock screen, or both).
You will find a range of wallpaper in Xiaomi phones. For a quick process, you can also open a wallpaper setting from quick home screen settings.
Guide to manage Xiaomi phone widgets on home screen
You can manage widgets from quick settings options on the home screen. To add any widgets on screen first go to screen and open widgets from quick settings. Now you can add a widget from the list.
Note: if your current screen does not have enough space for widget, you cannot add it. In that case you need to create space for the widget or add widget on another screen.
Now, if you want to remove the widget from the screen, then long press the widget and move it to top "Remove" option and tap on "Done" option.
How to create a group or folder for apps in Xiaomi?
You can create an apps group or folder from the active home screen setting. First open home screen setting, second select two or more apps and tap on "Group" option. System will create a group folder and moves all selected app icons to group.
After creating a group you can add or remove apps from group folder.
To add apps to a group, long press on the app icon and move it in the group folder. To remove apps from the group, go to the group folder, long press the app icon and move it out from the group.
What is the transition effects option in MIUI home screen setting?
Transition effects in MIUI home screen settings are used to set two screen switch movements. When you move from one screen to another, the screen will change with your selected transition effect.
MIUI has Slide, Crossfade, Tumble, Page, Cascade, Rotate and Cube transition effects. You can check all effects at selection time to find your style effect.
How to enable or disable Xiaomi phone's "Lock Home screen layout" setting option?
Lock Home screen layout setting option is available in phones "Settings > Home screen" settings. You can enable or disable this setting by making a switch on or off from the phone's "Home screen" setting.
You will not be able to customize Xiaomi phones home screen layout, if this setting is on. It means move apps to different screens, add or remove apps from the group folder will not allowed in this lock setting.
Xiaomi home screen layout setting options
Xiaomi MIUI gives two layout setting options: 4×6 and 5×6. These layout options represent the number of columns and rows. The 4×6 option shows 4 app icons in one row and 6 rows on screen. The 5×6 option shows 5 app icons in one row and 6 rows on screen.
So, by layout setting, you can Compaq your icon listing view. If your phone has many apps, then you can show more apps in one screen by 5×6 layout option.
How to use "Fill cells of uninstalled apps" home screen setting?
A Fill cells of uninstalled apps setting helps to quickly adjust empty space on your phone screen. To use this option, you need to enable it first from home screen settings. After that, whenever you find empty space on screen, you just need to shake your phone and space will fill by nearer app icons.
This setting gives a clean screen look very quickly, without moving too many apps from here and there.
How to enable or disable the app drawer on Xiaomi phones?
You can enable or disable the app drawer on Xiaomi phones from "Settings > Home screen > Home screen". To enable app drawer choose "With App drawer" option and to disable app drawer choose "Classic" option from Home screen setting.
With the app drawer you will also get App suggestions, app categories, background and more setting options. You can customize the app drawer based on your requirement.